ELs of all levels benefit from questioning at all levels of Bloom's Taxonomy. The chart below shows question stems for each Bloom's and ELPT Level.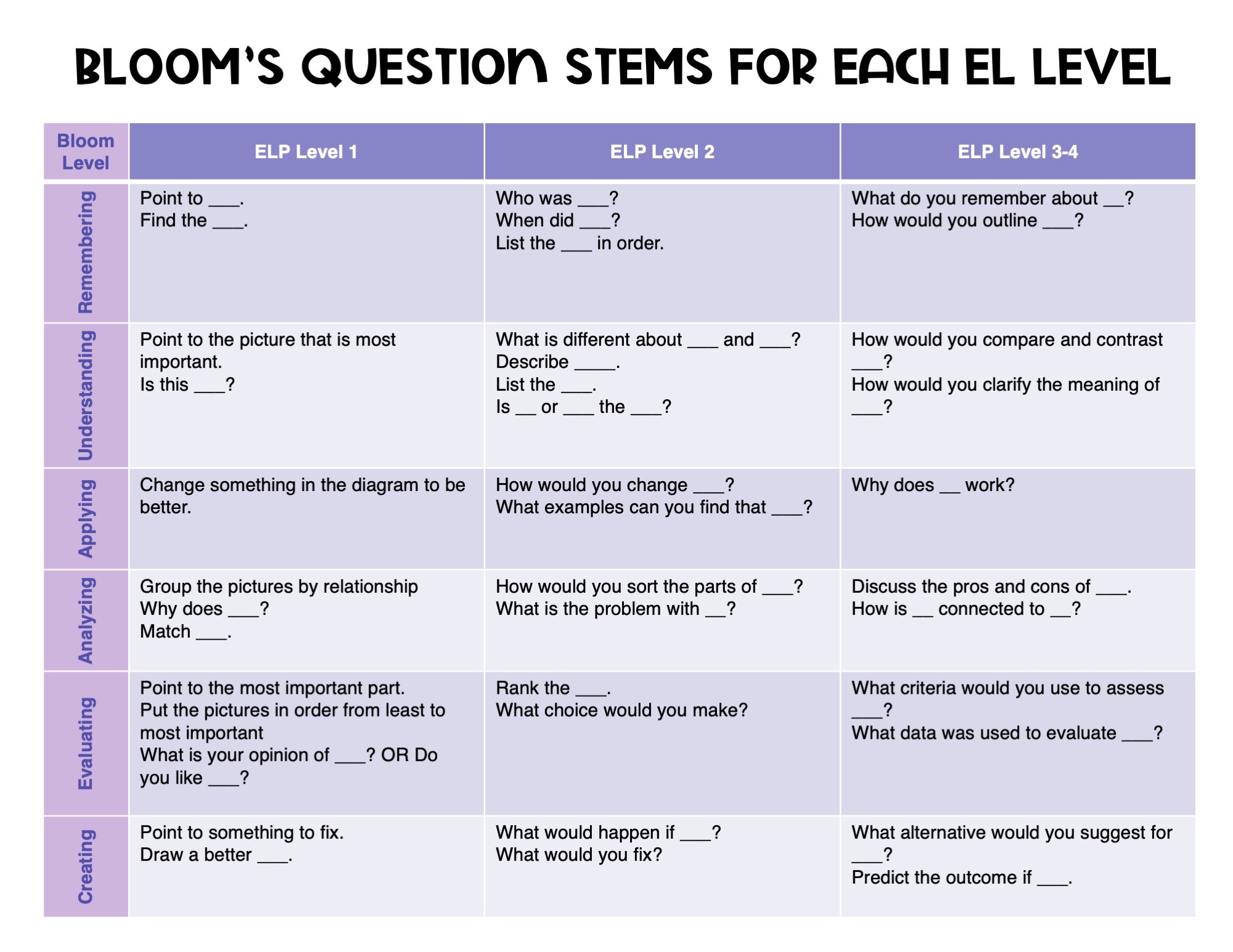 Language Acquisition Stages
MDE - Understanding the Stages of Language Acquisition
EL Current Students
Receive EL Services from the EL teacher
Speak a language in addition to English as documented on their Home Language Survey
Were screened for EL Services by the EL Teacher and qualified for services
Are eligible for State Testing Accommodations
Take the English Language Proficiency Test (ELPT) each year
Have Language Service Plans (LSPs) that lay out language acquisition supports that they are being provided by their content teachers, EL Teacher, and school staff.
Parent Refusal Students
Meet the requirements for EL Current students above, but their parent requested they not receive services
Do take the English Language Proficiency Test (ELPT) each year
Do not have a Language Service Plan (LSP)
FLEP Monitored Students
Students who met the requirements for proficiency on the English Language Proficiency Test (ELPT) - scored a 4 in the Overall, Reading, and Writing domains
Are monitored for four years to ensure they continue to succeed academically
No longer receive EL Services
No longer take the English Language Proficiency Test (ELPT)
Do not have a Language Service Plan (LSP)
Exited Students
Students who completed the four years in FLEP Monitoring and are no longer in the EL category
No longer receive EL Services
No longer take the English Language Proficiency Test (ELPT)
Do not have a Language Service Plan (LSP)